2022 World Chlorine Council Annual Meeting
2022 World Chlorine Council Annual Meeting
12 – 13 October 2022
The Watermark Baton Rouge Hotel
Baton Rouge, Louisiana
United States
The World Chlorine Council (WCC) invites you to the WCC Annual Meeting in Baton Rouge, Louisiana.
The Annual Meeting will feature expert speakers discussing chlorine safety topics, including: process safety management, chlorine release modeling, safe handling and transport of chlorine, and more.
A facility tour will be held on October 13th. More details to follow.
Draft Agenda: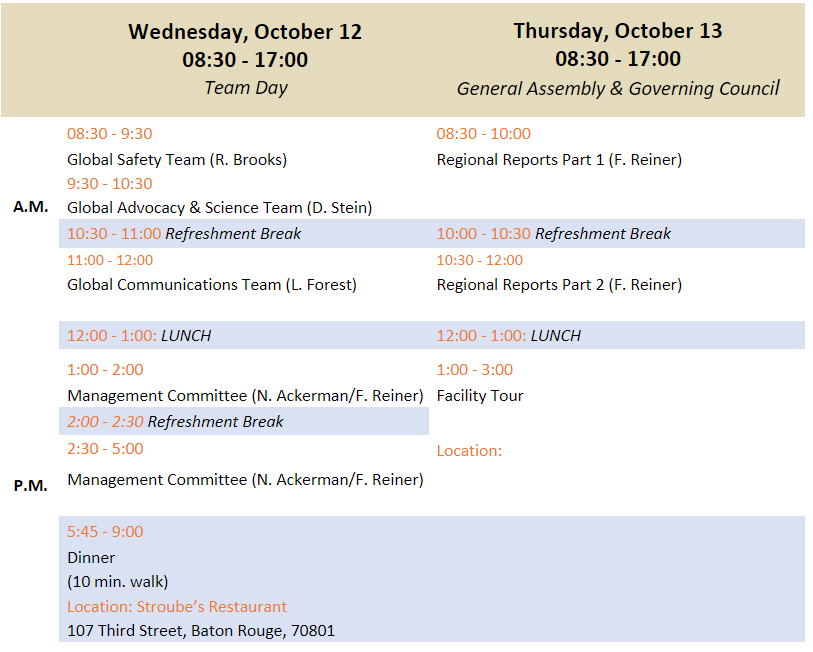 Registration:
The registration fee is $900 USD per person.
The guest fee is $75 USD for dinner.
REGISTER TODAY
Accommodations:
For hotel reservations contact the Watermark Hotel at +1 225-408-3200 or visit their website to receive the WCC group rate of $149 USD. The last day to book your room with the WCC group rate is Sunday, September 11, 2022.
Book your room online for the World Chlorine Council Annual Meeting.
Cancellation Policy
All cancellations will be subject to a $100 administrative fee.
No refunds will be given for cancellations made after September 12, 2022.
NOTE –  No refunds will be provided if you have reserved a room at the meeting hotel and have not cancelled in accord with the above cancellations and refund schedule. Rooms at the meeting hotel that have been booked under the World Chlorine Council's (WCC) contract rate that are cancelled after the above referenced dates have the potential to prevent the WCC from meeting its contracted guarantees at the host hotel therefore subjecting the WCC to significant financial penalties.