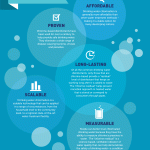 In September 2015, the new UN Agenda for Sustainable Development was adopted, coming into force on 01 January 2016. The 17 Sustainable Development Goals (SDGs) contain a very important one,  SDG #6 (Sustainable management of water and sanitation for all) which is of direct relevance to chlorine. The importance of SDG #6 was highlighted during the 2016 World Water Week, which  this year took place on 27 August – 01 September.
Despite some progress in achieving the SDGs being made, the UN Secretary General report of June 2016, highlighted that some areas for improvement still remain. For example by 2030, 663 million people could still have no access to an improved water source and 2.4 billion people may still have no access to improved sanitation. This must change over the next 15 years and efforts to do this have begun by making the SDG indicators more specific and measurable.
It is here that chlorine plays a vital role! For example, the SDG indicators call for improved drinking water sources that are located on the premises, available when needed and compliant with water quality standards.
The role of chlorine?
Chlorine is already well known to be a powerful tool in providing such safe supplies. For example, in 2012 "Rapid Assessment of Drinking-water Quality: A Handbook of Implementation" (WHO/UNICEF) recommended the use of the chlorine residual of ≥ 0.2 mg/l as a key parameter to check for in all samples from disinfected supplies (e.g. at treatment works, in distribution and in households). This residual helps to protect the microbial quality of the water in distribution and storage in order to safeguard human health.
This residual is not the only benefit of using chlorine though. Chlorine's affordability and proven, effective nature, alongside it's scalability and ease of measurability using simple test-strips will all contribute to achieving the UN SDGs over the coming years.
Indeed, such positive impacts are already seen in Haiti, where a network of 'Chlorine Banks' is helping to protect over 900,000 people in rural communities from fatal waterborne diseases like cholera for as little as 20₵ per family per month!