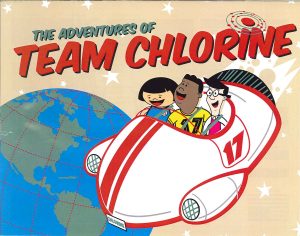 A fun and colourful new activity book and website were released today by the Chlorine Chemistry Division of the American Chemical Council.
Designed by Meaghan Groah of the ACC, this wonderful new book and website is for children of all ages. It helps to educate on how chlorine is a positive part of our daily lives that is present in important products and applications from all over the world. From solar panels to herbicides, modern plastics to protecting metal, the book is full of exciting stories that everyone can enjoy. You can even try learning about chlorine whilst colouring in the pictures online!
Check out the exciting adventures of Team Chlorine via the website teamchlorine.org!