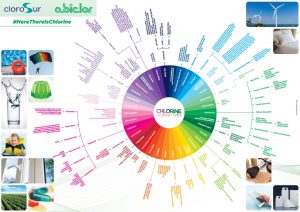 Chlorine and its co-product, caustic soda are applied in many essential substances and products that we rely on in our daily lives. From well known uses like water disinfection, through essential products like PVC to various intermediates in nylon and silicon production; chlorine and its co-products make our lives better.
This is outlined in a set of excellent, colourful publications from South American, WCC member organisation Clorosur with input from Brazilian group Abiclor. These publications describe the essential uses of the substances as well as some general information on our industry.
Information is available on CHLORINE and CAUSTIC SODA; for further information and to download the brochures in English, Spanish or Portuguese:, check out the Clorosur website .