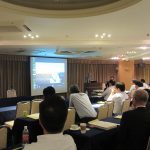 World Chlorine Council members JSIA (Japan Soda Industry Association) recently held a very successful meting on Technology, Safety and Environmental Issues in Kyoto, Japan.
Over two days on 11 and 12 July 21019, 100 people gathered to discuss best practices in the safe production of chlorine and caustic soda (chlor-alkali) as well as to reward those chlor-alkali plants who were demonstrating the best peformance in this key area. Other essential discussions were on training and the sharing of near-miss experiences so that all attendees could learn how to avoid potential accidents in future.
Of particular interest were presentations on the 'Jack Rabbit II' initiative in the USA, which is aiming to better understand how chlorine behaves in the event of its accidental release.
JSIA members include chlor-alkali producers in Japan, all of whom readily attended this event. This was in addition to JSIA welcoming participants from their associate membership as well as expert external speakers.
This annual technical meeting occurred ahead of the World Chlorine Council General Assembly which will take place in Tokyo, Japan in October 2019. Here, more safety experiences will be shared between the global chlor-alkali community.