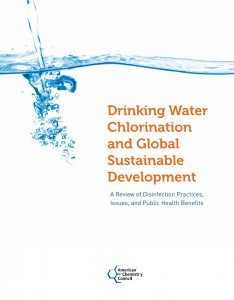 The American Chemistry Council's Chlorine Chemistry Division (ACC CCD) has completed a new booklet entitled "Drinking Water Chlorination and Global Sustainable Development." The booklet reviews the disinfection practices, issues, and public health benefits of drinking water chlorination in the context of the UN Sustainable Development Goals (SDGs), particularly in relation to SDG 6, Clean Water and Sanitation.
Specifically, the 32-page booklet details chlorine's role in public health, water treatment fundamentals, risks and types of waterborne diseases, disinfection byproducts, water treatment facility security, disinfection methods, and the future of chlorine disinfection. It also reviews U.S. drinking water regulations, waterborne disease trends, and includes illustrative case studies of waterborne disease outbreaks to help prevent future incidents.
Safe drinking water is key to achieving the SDGs. Beyond it contributing directly to SDG 6, clean drinking water helps achieve other SDGs, such as gender equality (SDG 5) by reducing the burden on women and girls to fetch water, and good health and well-being (SDG 3) by reducing communicable diseases. The information in this booklet will help readers better understand the importance and challenges of providing safe drinking water, and its critical role in sustainable development.
In addition to the English version, the booklet has been translated into Mandarin to extend the reach of this important information.