WCC Pool Chemical Safety Webinar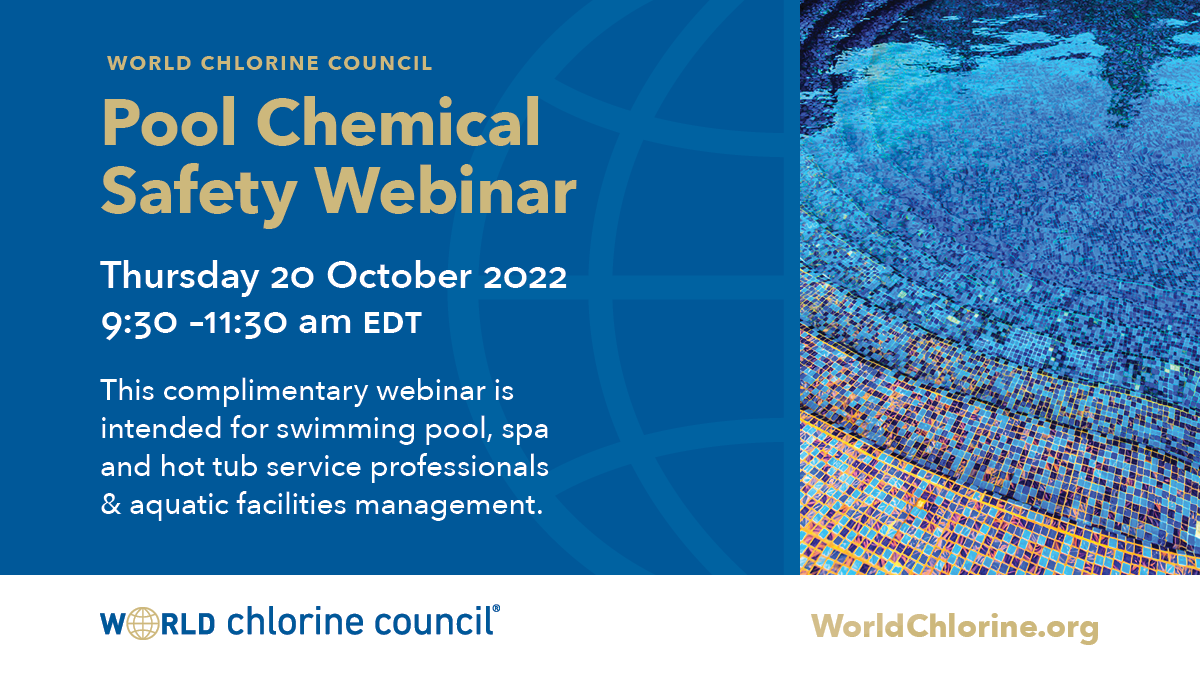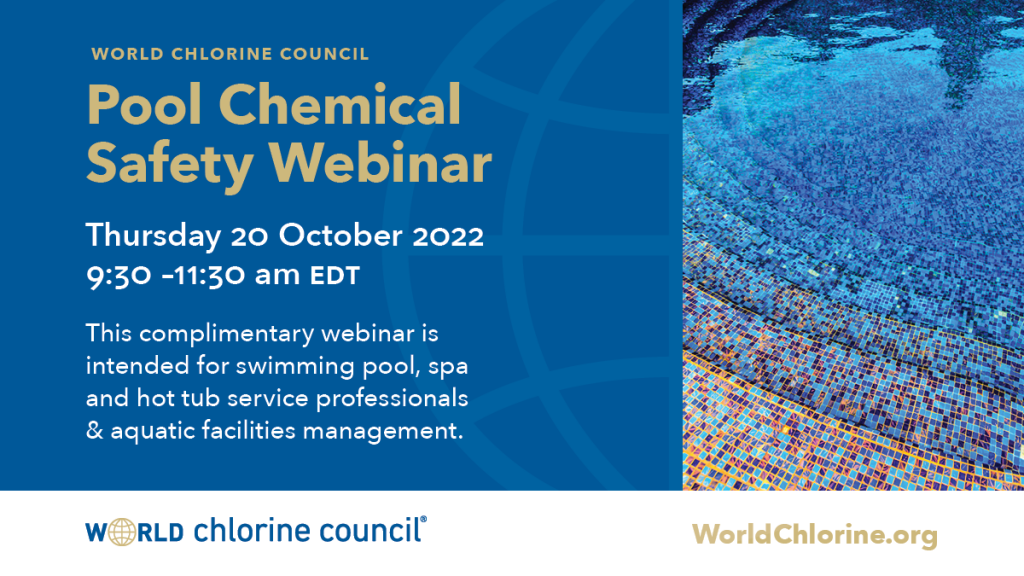 Thank you to all who attended the WCC Pool Chemical Safety Webinar
Overview
The proper use and storage of pool chemicals helps keep swimmers and aquatics staff safe in treated recreational water venues, including pools, water parks, and splash pads. Continuing reports of pool chemical injuries, nevertheless, highlight the need to identify the root causes of these injuries and raise awareness of appropriate steps to prevent them.
This two-hour virtual webinar featured presentations on pool chemical safety from pool experts.
View Presentations from the Webinar
Learn More about the Speakers
Terry Arko: Terry Arko has over 40 years of experience in the swimming pool industry. He has worked in both residential and commercial service, retail chemical sales, product development and technical training. He currently serves as the product training and content manager for Hasa a Western U.S. manufacturer of sodium hypochlorite liquid bleach. He is also a long-time member of U.S. Pool and Hot Tub Alliance's Recreational Water Quality Committee.
Jim Egan, PhD: Jim Egan has worked for LaMotte Company for more than 30 years. During that time, he developed reagents, test kits and instrumentation for testing pools and spa water. Currently he is VP Research and Development at LaMotte Company. He is also a long-time member of U.S. Pool and Hot Tub Alliance's Recreational Water Quality Committee.
Michele Hlavsa, RN, MPH: Michele Hlavsa, RN, MPH, is chief of the U.S. Centers for Disease Control and Prevention's (CDC's) Healthy Swimming Program. Her areas of expertise include recreational water–associated illness, particularly when caused by Cryptosporidium. She has worked on several investigations of outbreaks of recreational water–associated illness and collaborates with U.S. and international public health authorities and the aquatics sector to develop science-based prevention and control measures.
She has a bachelor's degree in nursing from the College of New Jersey and a master's in public health/epidemiology from Emory University. Michele was an Epidemic Intelligence Service Officer at CDC prior to joining the Healthy Swimming Program.
Robin Mitchell: Robin has worked in various management and technical roles within the leisure industry, education and retail. Robin now runs his own swimming pool technical consultancy business offering a solutions-based approach for the swimming pool water treatment sector. Currently Robin sits on the Pool Water Treatment Advisory Group as a council member and has written several publications in the industry. Previously Robin has also worked in the chemical industry for one of the largest manufacturers and distribution companies for swimming pool chemicals in the UK.
Ian Ogilvie: Ian is an Independent Chartered Safety and Health Practitioner who has worked in the leisure industry for the past 30 years. Currently Ian sits on the British Standards Institution Committee for Swimming Pools and also the Pool Water Treatment Advisory Group for the UK as a council member and has written several publications around design and plant and course material for regulated swimming pool qualifications. Finally, he also is a Technical Advisor for the Royal Lifesaving Society on swimming pools and drowning.
Jody O'Grady: Earning her B.S. in Chemistry from Allegheny College (Meadville, PA) in the last century, Ms. O'Grady has been able to apply her degree working for a leading chemical manufacturer of water testing supplies, Taylor Water Technologies LLC, which was recently acquired by Fluidra. Her numerous jobs throughout the company over the last several decades have included customer and technical services, large account management, and most recently product management. Taking an idea from concept to commercialization has allowed this proud Taylor employee to interact with every department in the company along with the customer who it is intended for addressing all technical aspects. Ms. O'Grady is currently the chair of the U.S. Pool and Hot Tub Alliance's Recreational Water Quality Committee.
John Weber: John Weber is a Senior Formulation Chemist with BioLab where he is primarily responsible for new product development, supporting existing products and evaluating new technologies.
John has been in the pool and spa industry for over 25 years and has worked for several pool and spa manufacturers including Laporte Water Technologies, Advantis Technologies, Arch Chemicals and Lonza prior to coming on board with BioLab, a Kik Consumer Products Company for the past 5 years. John has been a manager in quality control, technical services as well as new product development. John has worked with and/or been a member of the Recreational Water Quality Committee of the U.S. Pool and Hot Tub Alliance for many years, is CPO Certified and teaches numerous courses on water quality at trade shows annually. John earned his B.S. at Old Dominion University and M.B.A. at Georgia State University and holds 2 patents for new product development.
Need Continuing Education Units?
For interested participants, a certificate of two Continuing Education Units (2 CEU's) are available upon completion of the virtual webinar.
Learning Objectives:
Discuss the critical importance of safely storing and handling all pool chemicals.
Examine strategies to avoid potentially dangerous interactions of chlorine with other chemical substances used in treated aquatic venues.
Identify free online resources for pool chemical safety.
For further information on the webinar and to receive your CEUs, please contact Mary Ostrowski at maryoassoc@outlook.com.